Chris Harry's Blog

Harry Fodder
Wednesday March 6, 2013 UF juniors talk seniors
Updated: 9:15am, March 7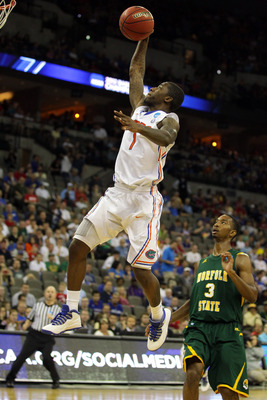 GAINESVILLE, Fla. -- Kenny Boynton was the first to walk off the floor. Then Erik Murphy. Finally, Mike Rosario.

With that, Florida's 2013 senior class was done with its last pregame shoot-around at the O'Connell Center, just four hours from its farewell home game Wednesday night against Vanderbilt.

On their way out, I stopped all four of the UF juniors -- who should have quite the sendoff in 2014, but first things first -- for some quick thoughts on what their out-going teammates have meant to them.

"I don't want to see them to go," point guard Scottie Wilbekin said. "I mean, I just watched the farewell episode of 'The Office,' so I'm a little emotional right now, anyway."

If he thinks things are teary now, wait until "KB," "Murph" and "Mike" are surrounded by family and friends before tipoff.

"It's sad," forward Will Yeguete said. "Really sad."

"When we came in as freshmen, we really didn't know the seniors that well," center Patric Young said. "Sophomore year, none of us were really that close to Erv (Walker). But now? We've spent three years with these guys -- and now they're going to be gone."


But not yet.

These bunch of Gators still could be around for a while and Wednesday night have a chance to celebrate clinching an outright Southeastern Conference championship on the home floor and really send the '13s out in style.

So I asked each junior to give a one-word description of each of their senior brothers. Some answers are probably self-explanatory, others will left for interpretation. 


CASEY PRATHER on:
Mike: "Crazy."
KB: "Unforgettable."
Murph: "Granddaddy." ... "He's just an old man."

PATRIC YOUNG on:
KB: "Disguised. ... We discovered this whole different side of him, like we hardly even knew him until this year."
Murph: "Cool."
Mike: "Everything."


WILL YEGUETE on:
KB: "Funny."
Murph: "Relaxed."
Mike: "Unexpected. ... You never know what he's going to do."

SCOTTIE WILBEKIN on:
Murph: "Simple. ... That was an easy one."
KB: "Hilarious."
Mike: "Extravagant."

And, as long as we're on the subject (and it's my blog):
HARRY FODDER on:
KB: "Prolific."
Murph: "Easy."
Mike: "Complicated."

Thanks for the memories, fellas.