Chris Harry's Blog

Harry Fodder
Sunday February 10, 2013 Basketblog Notebook: Doe-Doe & Tre, Scottie off the bench, Bonner from 3, etc.
GAINESVILLE, Fla. -- With each passing day, next season gets a little closer for two sort-of Florida basketball players.

But these dog days (and dog-eat-dog practices) of February can be really tough on a collegiate transfer.


In the case of swingman Dorian Finney-Smith, a freshman starter and rising star at Virginia Tech a year ago, and center Damontre Harris, a Southeastern Conference All-Defensive team selection at South Carolina last year, it's been tough on the two of them.

But at least they have each other to lean on.

"I've been playing basketball since I was about four years old," Finney-Smith said last week. "So to sit out a whole year and not get to play even one game? It's hard, man."

Harris is right there with him.

"I'm just trying to go with the flow," he said. "Tere's actually some light in the tunnel now."

Finney-Smith and Harris are roommates and just about inseparable these days. That's a good thing. When the two decided to leave their former schools after coaching changes last summer -- first Harris, then Finney-Smith -- a natural bond was formed.

Transfer years can be as lonely as they are long, but relocation has been good to the Gators recently. Think Vernon Macklin (by way of Georgetown) and Mike Rosario (Rutgers).

Both of those players gave UF's two new transfers advice last summer. In went something like this:

Stay focused and stay in the gym because while you may think you have a whole year to get better, that time to work is precious -- and keeps moving. Take advantage of it.

"And now we're deep into SEC play," Finney-Smith said. "The time is definitely moving."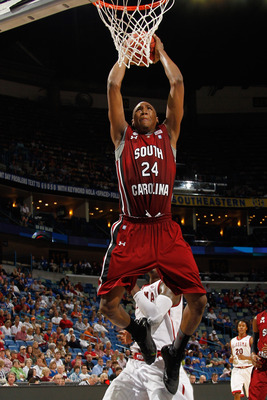 That Finney-Smith and Harris have had each other to lean on has definitely helped pass that time. They sit together on the UF bench during home games (in their sweats) and watch their teammates on television when the Gators are on the road (in their dorm).

"I don't know what I'd do without Tre," Finney-Smith said. "We're in this together."

Transfers have the same demands as active squad members when it comes to being at practice, weight-lifting sessions and team meetings. They just don't get the reward of the game-day experience.

Yet.

"You put in the work everybody else puts in, but you don't get to show or perform or demonstrate all that work," Harris said. "That's the worst part."

Maybe so, but the bulk of the worst is over. The college basketball season is two-thirds done, which means Finney-Smith and Harris are that much closer to being UF basketball players for real.

In the interim, 6-foot-10, 228-pound Harris has spent the last four months rehabbing the torn labrum he suffered on just the second day of practice. He's been a project for strength and conditioning coach Preston Greene, who's reshaped and toned the former Gamecocks big body. Harris recently was cleared for individual instruction work and some non-contact drills at practice.

Finney-Smith, the 6-foot-8 forward/guard who goes by "Doe-Doe," has been a mainstay for UF's scout team the entire season and oftentimes provides moments in practice that cause coaches and support staff to shake their heads and say, "What if?"

As in, "What if he was on this team?"

They will both be there next year, with each figuring prominently in the 2013-14 plans. Harris was an SEC All-Defensive selection last year when he averaged 6.8 points on 55-percent shooting, 5.5 rebounds and was second in the league only to Kentucky's Anthony Davis in blocked shots with 71 (or 2.3 per game).

Finney-Smith was named to the Atlantic Coast Conference's All-Freshman Team after starting 30 games and averaging 6.3 points and seven rebounds. His athleticism and versatility could allow him to play four positions next season.

Sometimes the two let their minds to wander to a time in the not-too-distant future when they'll be running onto the O'Connell Center floor and hearing fans cheer for them.

"I think about it every day ... actually wearing a Gator uniform," Harris said. "I've even had dreams about it, but then I wake up knowing I still have to wait 'till next year. It'll be here, though. I'd even say the time's starting to go by a little faster."

Neither player regrets their decision that brought this season of limbo.

"I just wish I'd signed with Florida out of high school," Finney-Smith said. "Can't do nothing about it now, though, but practice hard and wait for my time to get here."
MESSAGE SENT, MESSAGE RECEIVED

UF coach Billy Donovan believes junior Scottie Wilbekin is having one of the best and most complete seasons -- offense, defense, playmaking -- of any point guard on the country.

And that's what why he benched him Saturday.

Wilbekin strayed the previous game -- that eyesore loss at Arkansas, the first UF defeat of the SEC season -- from doing the things that made him so across-the-board effective and when Donovan confronted and challenged his floor leader he did not see the proper response.

Sitting Wilbekin down for the first 2 minutes and 21 seconds against Mississippi State-- freshman Michael Frazier got the start, instead, -- was not a disciplinary move as much as it was an attention-grabbing one. Donovan felt the need to explain as much after the game because he did not want people to think Wilbekin had done something wrong along the lines of his three-game suspension to start the season for violating team rules.

"There was no altercation, he didn't come late," Donovan said. "His energy level and passion wasn't where it needed to be and that has a great impact on our team. I had to confront it and deal with it and make a decision."

Wilbekin, who had five points and seven assists in a team-high 33 minutes against the Bulldogs, knew where the coach was coming from.

"I was getting down and wasn't playing the best I could," Wilbekin said. "He just told me he expected a certain level out of me."



TRIVIA QUESTION

Junior center Patric Young recently went over 100 dunks for his UF career. Yes, they count dunks here. Actually, they started doing so back in the early '80s and it's listed as an "unofficial stat." So, who holds the Gators record for most dunks in a career? Answer in "Free Throws" section below.


EX-GATOR OF THE WEEK

Congrats to San Antonio Spurs forward Matt Bonner, the eight-year veteran who was invited last week to be one of the six participants in the Foot Locker 3-Point Contest at NBA All-Star Weekend Saturday in Houston.

Bonner, who has made 43 percent of his 3s this season, will take on a field that includes New Orleans' Ryan Anderson, Golden State's Stephen Curry, Indiana's Paul George, Cleveland's Kyrie Irving and New York's Steve Novak.

With Bonner in the weekend fold, that means six former Gators will be representing during All-Star festivities, with Washington Bradley Beal and Houston's Chandler Parsons picked for the Rising Stars Challenge pitting rookies against second-year players, and Joakim Noah and David Lee in the feature attraction Sunday night.


STARTERS IN MOTION (UPDATED EDITION)

When Frazier got his first career start Saturday, it marked the seventh different starting lineup for the Gators this season, but the first tweak to the first unit eight games.

Yeguete-Murphy-Young-Boynton-Rosario (6-1)
Alabama State-Win; Wisconsin-W; vs. Middle Tennessee State-W; Savannah State-W; UCF-W; at Arizona-Loss; Southeastern Louisiana-W

Yeguete-Murphy-Boynton-Rosario-Wilbekin (1-0)
Marquette-W

Yeguete-Young-Boynton-Rosario-Wilbekin (2-0)
at Florida State-W; at Yale-W

Murphy-Young-Boynton-Rosario-Wilbekin (7-2)
at Kansas State-L; vs Air Force-W; at Texas A&M-W; Missouri-W; at Georgia-W; at Mississippi State-W; South Carolina-W; Ole Miss-W; at Arkansas-L
Young-Prather-Boynton-Rosario-Wilbekin (1-0)
Georgia-W 


Young-Prather-Murphy-Boynton-Wilbekin (1-0)
at LSU-W

Murphy-Young-Boynton-Rosario-Frazier (1-0)
Mississippi State-W
SILLY GATOR PHOTO OF THE WEEK
Come a little closer, why don't you?
FREE THROWS

After going 3-for-5 from the arc Saturday, Frazier is now 33-for-70 for the season. That's 47.1 percent. That's deadly accurate, especially for a rookie. ... And after going 1-for-6 from deep at Arkansas, senior forward Erik Murphy made three of his five long ones against the Bulldogs and ran his SEC-leading percentage back to nearly 50 percent (49.5). ... Senior guard Kenny Boynton has now played in 130 games and Tuesday night will move into a tie with Bonner for eighth on UF's all-time list with 131. ... Trivia answer: Dwayne Davis (1988-91), the forward/center from St. Petersburg, threw down 168 dunks for three different head coaches from 1988-91. That's six more than the late Eugene "The Dunking Machine" McDowell flushed from 1982-85.