Scott Carter's Blog

Carter's Corner
Thursday April 25, 2013 The nuts and bolts of the new College Football Playoff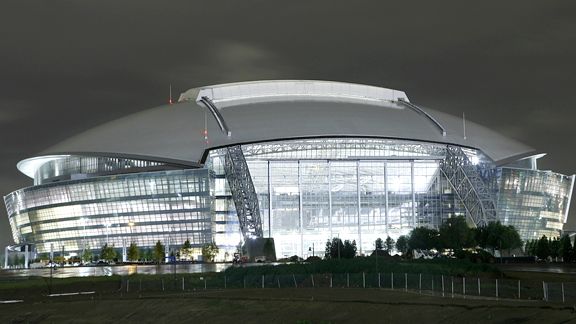 Cowboys Stadium in Arlington, Texas, will host first College Football Playoff title game on Jan. 12, 2015.
GAINESVILLE, Fla. -- After years of debate and complaints over the BCS, major college football officially welcomed its new playoff system on Wednesday in Pasadena, Calif.
Starting after the 2014 season, the College Football Playoff will determine college football's national champion.
The new playoff system already has an official website and Twitter account (@CFBPlayoff).
In case you missed the news, here are the key points to remember as college football moves into a new era:
WHAT: College Football Playoff
WHEN: Starts after 2014 season
WHO: Four highest-ranked teams
WHERE: First championship game will be at Cowboys Stadium on Jan. 12, 2015
BOWLS: Rose, Sugar, Orange, Fiesta, Cotton and Chick-fil-A bowls are in the six-bowl semifinal rotation
SCHEDULE: In the first year the CFB Playoff will feature back-to-back tripleheaders on Dec. 31 (Cotton, Orange, Fiesta bowls) and Jan. 1 (Chick-fil-A, Rose, Sugar bowls). The Rose and Sugar bowls will be the national semifinals.
QUOTE OF NOTE I: "We decided to call the playoff what it is -- the College Football Playoff. We think the new playoff will be the most dynamic improvement to college football in a generation. Certainly, it's what the fans want." -- BCS Executive Director Bill Hancock
QUOTE OF NOTE II: "The culture of New Year's Eve will change in this country.'' -- Hancock on emphasizing a return to playing major bowls on New Year's Eve and New Year's Day
QUOTE OF NOTE III: "We couldn't be more excited about bringing college football's biggest game to Cowboys Stadium. Rest assured, we all pledge to do everything we can to make sure this game exceeds everyone's highest expectations." -- Dallas Cowboys owner Jerry Jones
According to ESPN.com, the semifinal rotation has been determined as follows: The Rose (Pasadena) and Sugar (New Orleans) bowls will host the semifinals in 2015, the Orange (Miami) and Cotton (Arlington) bowls will host in 2016, and the Fiesta (Glendale) and Chick-fil-A (Atlanta) bowls will host in 2017. They will keep that rotation through January 2026.
An additional note is that as part of the College Football Playoff's 12-year contract, the Chick-fil-A Bowl will be called the Chick-fil-A Peach Bowl in honoring the game's history and original name.