Scott Carter's Blog

Carter's Corner
Friday November 16, 2012 Scottie Wilbekin rejoins basketball team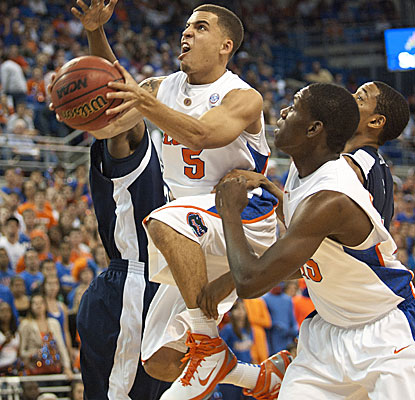 GAINESVILLE, Fla. -- Scottie Wilbekin is back on the Florida basketball team, but his spot as starting point guard is something he'll have to earn all over again.

That won't happen before the 10th-ranked Gators (2-0) face Middle Tennessee State (2-0) Sunday in Tampa, UF coach Billy Donovan said Friday morning.

"He'll be at practice today and he'll play in the game this weekend -- but I'm definitely not starting him," Donovan told GatorZone.com. "Obviously, he made some bad decisions that he's paid for, but as far as I'm concerned that's all over and done with."

Wilbekin, the junior from Gainesville, was suspended Nov. 8 for violating team rules. In his absence, the Gators played well with senior Kenny Boynton switching to the point in their one-half of suspended action against Georgetown and in ensuing victories over Alabama State and 22nd-ranked Wisconsin.

Donovan made the decision to suspend Wilbekin mere minutes before the Gators were to board a bus to Jacksonville for the Navy/Marines Corps Classic to face the Hoyas on a battleship at Naval Station Mayport.

He has not been allowed to take part in team functions since, instead working out on his own.

"Scottie's missed a whole week, basically," Donovan said. "Now he has to come back to practice and earn his way like everybody else."

Wilbekin's return, though, certainly bolsters UF's depth after all five starters played at least 29 minutes Wednesday against Wisconsin and the backcourt of Boynton and Mike Rosario logged 37 and 39, respectively.

Wilbekin has averaged just 2.5 points and 16 minutes per game for his career, but this season figures to be on the floor as much as any player as the heir apparent to Erving Walker and the team's best on-ball defender.